CVS was attracted to Arbor because of its track record, market share dominance, common culture and outstanding employees. At the time, CVS stated, "there is much to learn from Arbor."
Stanley P. Goldstein, past Chairman and Chief Executive Officer of CVS, spoke of the acquisition:
"Arbor is widely regarded as the nation's best regional drugstore chain, an outstanding company with an exceptional track record and excellent growth prospects. We couldn't be more pleased to have Arbor join CVS. The two-way synergies between CVS and Arbor will provide terrific opportunities to accelerate our growth and better serve our customers."

"When we sold it was a billion dollar company…but the thing that never changed was that singular focus on the customers, running a lean operation, attention to detail, and really executing doing what we said we were going to do," Dennis Wozniak, Senior VP of Purchasing and Marketing said. "And that was a culture set at the top of the organization and it just filtered throughout."
The Culmination
One could say that Eugene's philosophy and innovation led to the sale to CVS. At the time of the sale, more than 1,200 of 7,200 employees owned Arbor stock—a key factor in Gene's enthusiasm for the deal. Additionally, CVS offered a price that was more than 38 times earnings. "Nobody has ever come close to the metrics we had when we sold our stores," Gil Gerhard, Arbor Drugs VP of Finance and Administration and CFO said.
In a letter to Gene following the sale to CVS, a former Arbor employee spoke of his loyalty and hopes for the future of the business:
"I don't intend to fully duplicate my experiences here, but I do hope that my next situation contains some of the search for excellence that was the basis for all our decisions in this organization…All that we have accomplished starts with leadership and ends with due diligence…I thank you for letting me be part of this amazing 'little' company…"
Gerhard celebrated Arbor:
"It was just kind of the grand finale," Gerhard said. "All of the hard work, the long hours—there was a reward at the end of the day. That was not only important to me, but to the rest of the senior management. It was a team effort, truly a team effort, and everyone pitched in. We operated as one unit and you don't find that everywhere."
Always Seeing the Opportunity
The sale of Arbor Drugs to CVS was a seminal event in Gene's life. To him, it was not a culmination, but an opportunity to keep moving forward—to lead.
"Arbor for me will always be synonymous with opportunity," Gene said. "For those of us who chose to take that opportunity, we knew that that road was not necessarily the easiest road to traverse, and generally required hard work…Those of us who grew with Arbor grew in knowledge and experience….This growth did not necessarily encompass growth in remuneration or title, this growth came from within, made us better within ourselves and not necessarily to the outside world through titles, commendation or other forms of outwardly recognition. This growth was realized through hard work, self-determination and tenacity and originated through self-initiation, by seeing a need or opportunity to better the company, and taking it."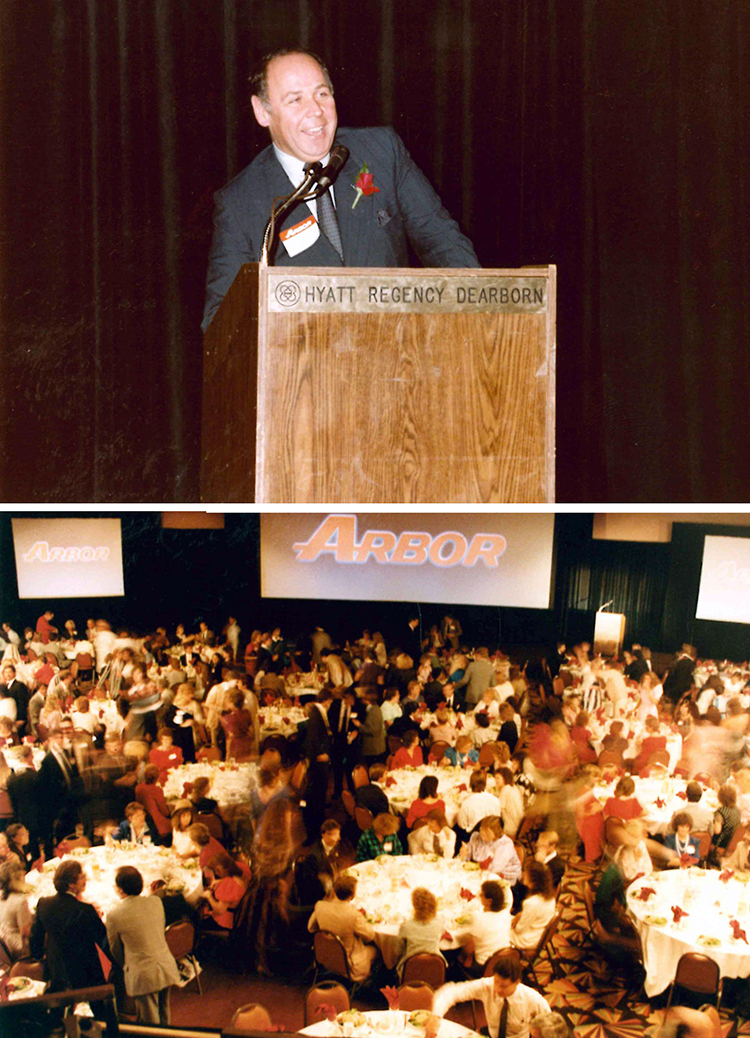 Image: Gene addresses Arbor employees at an Arbor Drugs event.

The Business and Community Leader
With the sale of Arbor, Gene was able to apply his success as a business leader to being a full-time philanthropic leader. He harnessed the same drive, energy, and enthusiasm he used in building the Arbor business to champion his philanthropy. Gene became the Chairman and Founder of Arbor Investments Group where he continued to enhance and build relationships within the community.
Immediately after the sale, Gene chaired the Wayne State University "Preparing for Tomorrow" Campaign, and soon became the first chair and founder of the Wayne State University Foundation.
Prior to Gene's leadership and his partnership with then Wayne President, Irv Reid, the university had never received a gift over a million dollars, had a limited database of alumni and did not employ marketing techniques. Gene transposed his business leadership skills to Wayne State, helping to build a bona fide philanthropic platform and bringing the university front and center to the leaders of the business community and influential alumni.
This pattern of philanthropic leadership involvement became characteristic and pervasive. Gene played a pivotal role in transforming and advancing the Beaumont Foundation into a premier philanthropic organization. He provided the lead gift for the Federation's Millennium Campaign for Detroit's Jewish future, inspiring a cohort of others to emulate. Mayo Clinic soon was to be significantly enhanced by Gene's philanthropic leadership, and many others along the way.