The Mentor
Having benefitted from their mentorship, as well as the mentorship of others like Sam Frankel, (who recruited Gene to the Detroit Symphony Board), he devoted himself to guiding others. He took the time to mentor, both in business and in philanthropy. Gene deeply believed in the importance of giving back. Taubman once spoke of Gene's dedication and benefit:
"He's an extraordinary citizen and great for the Jewish community and the Detroit area in general. Whenever you invite him to participate and be helpful – he shows up and he is helpful."
Dan Gilbert, one of Detroit's biggest advocates and philanthropists of today, was Gene's paperboy. He took Dan to his first Federation Fisher meeting. It was important to Gene to help guide young people like Dan because those were the people that would carry on the tradition of giving back.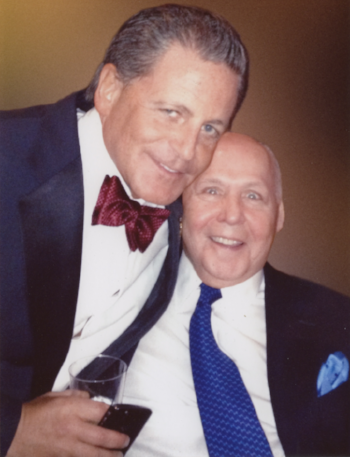 Image: Gene with Dan Gilbert, 2013
"Gene Applebaum was many things. Family man. Entrepreneur. Community leader. But what impressed me most about Gene was how he treated people. He greeted his newspaper boy (and I was one of them) with the same friendly warmth that he would greet senators or CEOs," Dan Gilbert said. "He didn't care who you were or where you came from; he knew who he was and none of the success and wealth he achieved was going to change him".
Bob Aronson, former CEO of the Jewish Federation of Metropolitan Detroit, also considered Gene a mentor and a friend. He credited Gene for guiding him throughout much of his career:
"I believe Gene is a true leader ... Gene sets the standard for others to follow; this is the true definition of leadership. He cares strongly about Detroit, our Jewish community, and the Jewish world."
Gene and his Infectious Charm

Sidney Forbes, a successful retail property developer and Detroit philanthropist, knew Gene since childhood. Having met in the 8th grade, the two men remained extremely close throughout their lives. In addition to his dedication and focus, Forbes attributed much of his friend's success and impact to his optimism and warm, infectious personality:
"As you go through life, there is always a special person that makes everybody feel good, and who sets the mood and tone for anything that is going on," he said. "Gene has always been that way. He's always had a great nature and smile on his face."
Forbes also praised Gene's deep integrity:
"The word I would use is integrity. People trust him, they believe in him. And he's always been dedicated to wanting to help. When he's been in a position to do it, he's always given and he's done a tremendous number of good things. He's always been committed to Federation, to Israel, to the health system, to education. He's just been a good person, a good man—he stands for all the good that we look up to and reach for."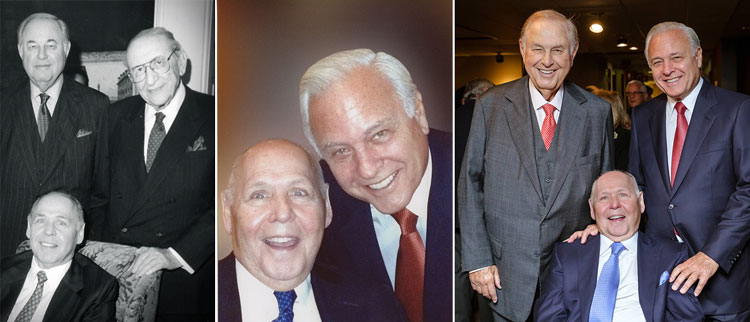 From left: Alfred Taubman, Max Fisher & Gene. Gene & Sidney Forbes,
Alfred Taubman, Gene & Sidney Forbes
The Leader

Beyond his public philanthropic support, Gene privately influenced and advanced countless organizations, particularly those that make Detroit distinctive and world-class. He had long made a point to serve as a private advisor to community leadership, providing critical insight and wisdom. As a quiet fundraiser, Gene excelled at asserting "friendly" persuasion, bringing people together, appealing to their passions, and simply demonstrating the right thing to do.
"I have known Gene since kindergarten," David Hermelin, one of Gene's longtime friends, said "He is one of those people you grow up with that gives your past a sense of quality. Gene always had great instincts. He was one that was able to see the important from the less important. He was action oriented to not only visualize something, but he has the ability to execute. He is an expert in interpersonal relations and brings people together in a way that allows them to achieve their very best. Although he was interested in building a fine chain of stores, he was more interested in building his fine name. If the story of the three crowns had one person in mind, it would have been Eugene Applebaum." - David Hermelin